WHO WAS THAT MASKED MAN?
That's right, we all should be wearing a protective mask anytime we are out in public. It helps protect you and the people around you from the virus.
Who knows how long the need for a mask will be needed but we have the way to be safe and support the foundation. Our new Ollek Foundation mask is of high quality and we are excited to offer them for only $10 each or 6 or $50. Here's a chance for you and your family to be safe and also support a worthy cause. Scroll down and check the contribution level you desire and we'll get them right out to you and…THANKS FOR YOUR SUPPORT and who was that masked man in the picture?
 It certainly is obvious that 2020 has begun in a way none of us expected and none of us have ever witnessed before.
The coronavirus forced us to cancel our April drive to assist the Family Crisis Center. We are hopeful that we can maybe reschedule for later in the year depending on how the virus pandemic unfolds. Like most everyone else at the current time our focus is on keeping healthy and helping others where we can.
We are still hopeful that we will be able to proceed in August with the school program to assist those needy students with backpacks and school supplies. We will keep you posted.
The same holds true for our annual drive to help fill the pantry for Victory in the Valley. We are thinking optimistically for all of these. Some rescheduling may occur but…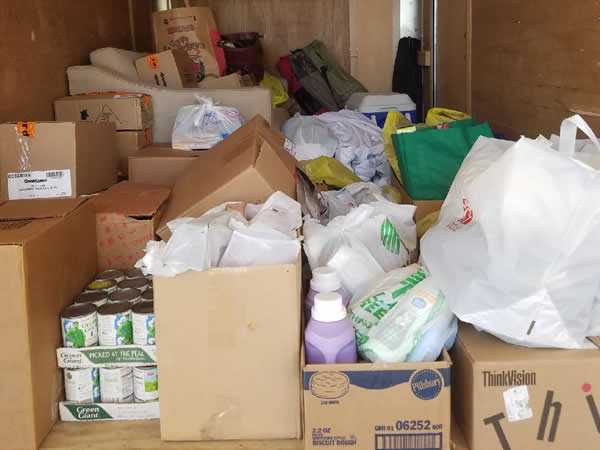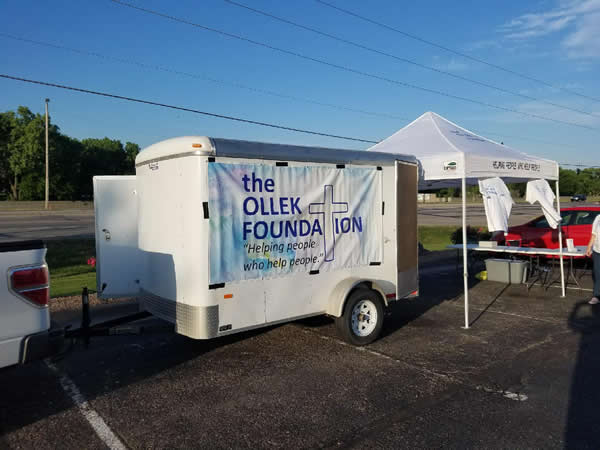 BRIEF REVIEW OF 2019
The year 2019 provided opportunities for the Ollek Foundation to "help people who help people". In Philippians 2 vs. 4 we are reminded "Look not only on your own interests, but also the interests of others" and that is the focus of The Ollek Foundation.
In April we were able to hold a drive to help fill the food pantry for the Family Crisis Center in Wichita, Kansas. The pictures below depict our trailer and also how it looked as we were filling it from the generous donations brought by so many caring people.
A new event was added this year as we participated in the annual back pack and school supply drive to assist those families in need. These items are needed for the children to attend school and some families just don't have the funds, especially if they have several children.
We were honored to receive TV coverage for this event from KAKE, Channel 10, the Wichita ABC affiliate. That helped all of us to focus on the real need that exists in this area.
In the fall we held our third annual pantry replenishment drive for Victory in the Valley, the organization dedicated to providing food and other services to families stricken with cancer. Again, we were able to collect more than we did the year before. That is always our goal…collect more than we did the year before.
We closed out the calendar year we continue our tradition of delivering cookie trays to area senior living centers as well as the organizations we have held drives for. This is not only a fun time but it something the recipients really seem to enjoy.
HOW CAN YOU HELP?
You can help by making a tax deductible contribution to the foundation. Contribute $20 or more and we'll send you your choice of a black or white foundation shirt, ball cap, special Ollek family cook book or Ollek Foundation beanie.
Just complete the form below with the needed information and let us know which item(s) you want. A new feature is you can sign up for a monthly amount and your credit card will be automatically charged for the amount of your choice each month. No free blankets or tote bags for your monthly subscription, just the opportunity to help.
THANK YOU FOR YOUR SUPPORT.
Donate to the Ollek Foundation
Donate $20 or more and get a free shirt!
Contribute $50 or more and we'll send a free t-shirt, beanie and cookbook!
---
We encourage you to "Help people who help people". You can do so by contributing below using your credit card. We THANK YOU and those in need are ever so thankful.
OLLEK FOUNDATION STAFF RESTS AFTER UNLOADING THE TRAILER
Officers and Directors
---
Ronald (Ron) Ollek—President
Barbara (Barb) Ollek—Vice President
Richard (Dick) Ollek—Vice President
Robyn (Ollek) Gruenwald—Secretary
Richard (Rich) Ollek—Treasurer
Any Help is Appreciated
---
If you have any questions or want to contribute by mail we can be reached at 573.434.9296 and at:
The Ollek Foundation
11245 W. Neville Ct.
Wichita, Kansas 67205