THANK YOU! THANK YOU! THANK YOU!
Our April 17th drive to assist the Wichita Family Crisis Center was a huge success thanks to the wonderful people who donated so much to help. We filled our trailer and then filled the tables at the Crisis Center. See the pictures below.
A special thanks also goes to Quantum Credit Union for assisting in the promotion of the event and their continued support of allowing us to use their parking lot as a collection point.
Below you will see pictures of both the Crisis Center Drive as well as the Victory in the Valley Drive held last fall. You can see the generosity of people.
As to future events, we are working on the summer schedule and hope to have an announcement soon. The Victory in the Valley Drive will be held again on the First Saturday in October as it has in previous years.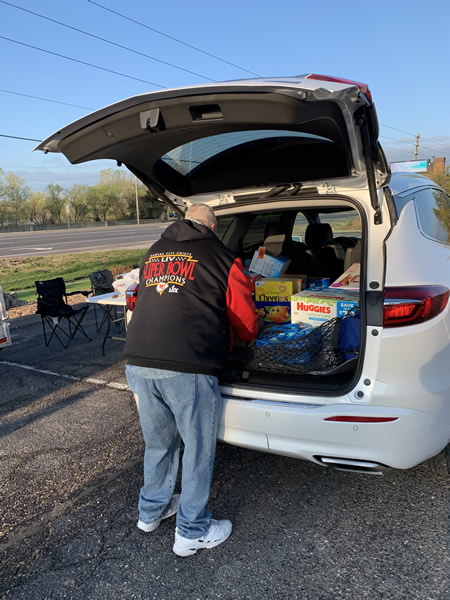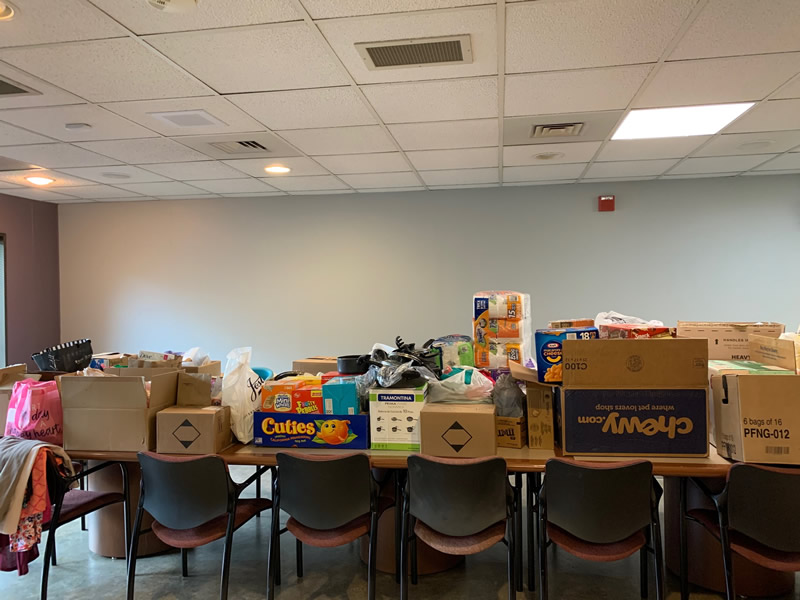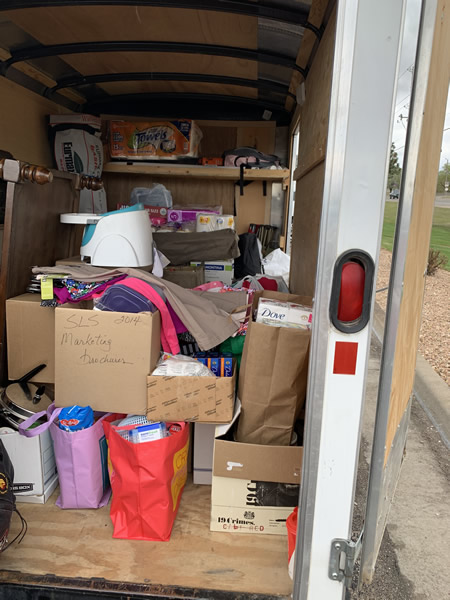 All of us here at the Ollek Foundation want to wish you a prosperous and blessed 2021.  Last year presented us and the communities we serve with a lot of challenges that prevented us from physically helping a lot of local charities. But, with the contributions our supporters sent us, we were able to provide financial assistance to food banks and masks to organizations needing help in that way. In the pictures of our loaded trailer you can see what we were able to accomplish physically with our Annual Food Drive in the Fall to assist Victory in the Valley.

A successful drive to help Victory in the Valley.
2020 also created some changes for the Ollek family as well. Dick's mobility situation was causing safety issues in the home. Through family discussions and the power of prayer, the family was able to locate a long term care facility for Dick. He now resides in a care facility in Sedgwick, Kansas, just 20 minutes from their residence in Wichita.
During a change like this people tend to fall into negativity and self pity, but being that Dick is strong in his faith, he has taken this change as an opportunity to spread the Word of God in his new home by starting a Sunday morning Christian fellowship hour at the long term care facility. In the pictures you can see him involved in the Christmas Eve service that he wrote and lead.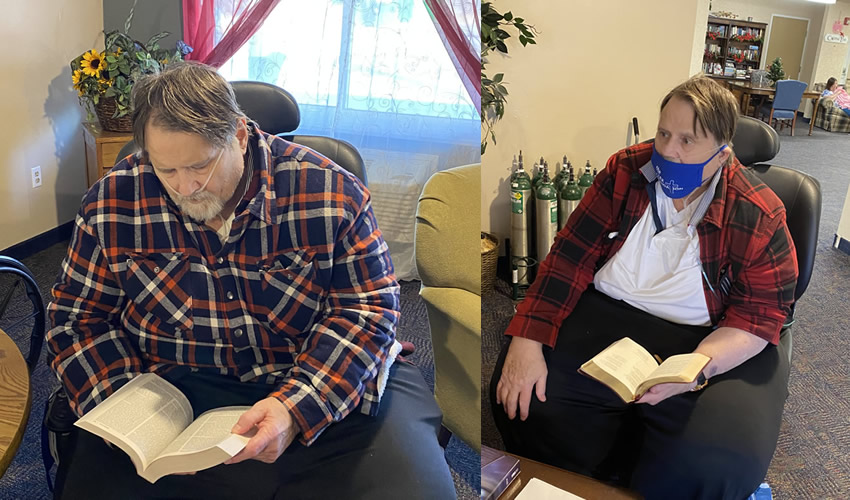 We were able to conduct a special Easter Fellowship Hour that set a record attendance.
The foundation has voted to assist this ministry by supplying needed guest pastor video messages for the Sunday fellowship as well as Bibles and prayer books for all residents who want them. This material has been very well received.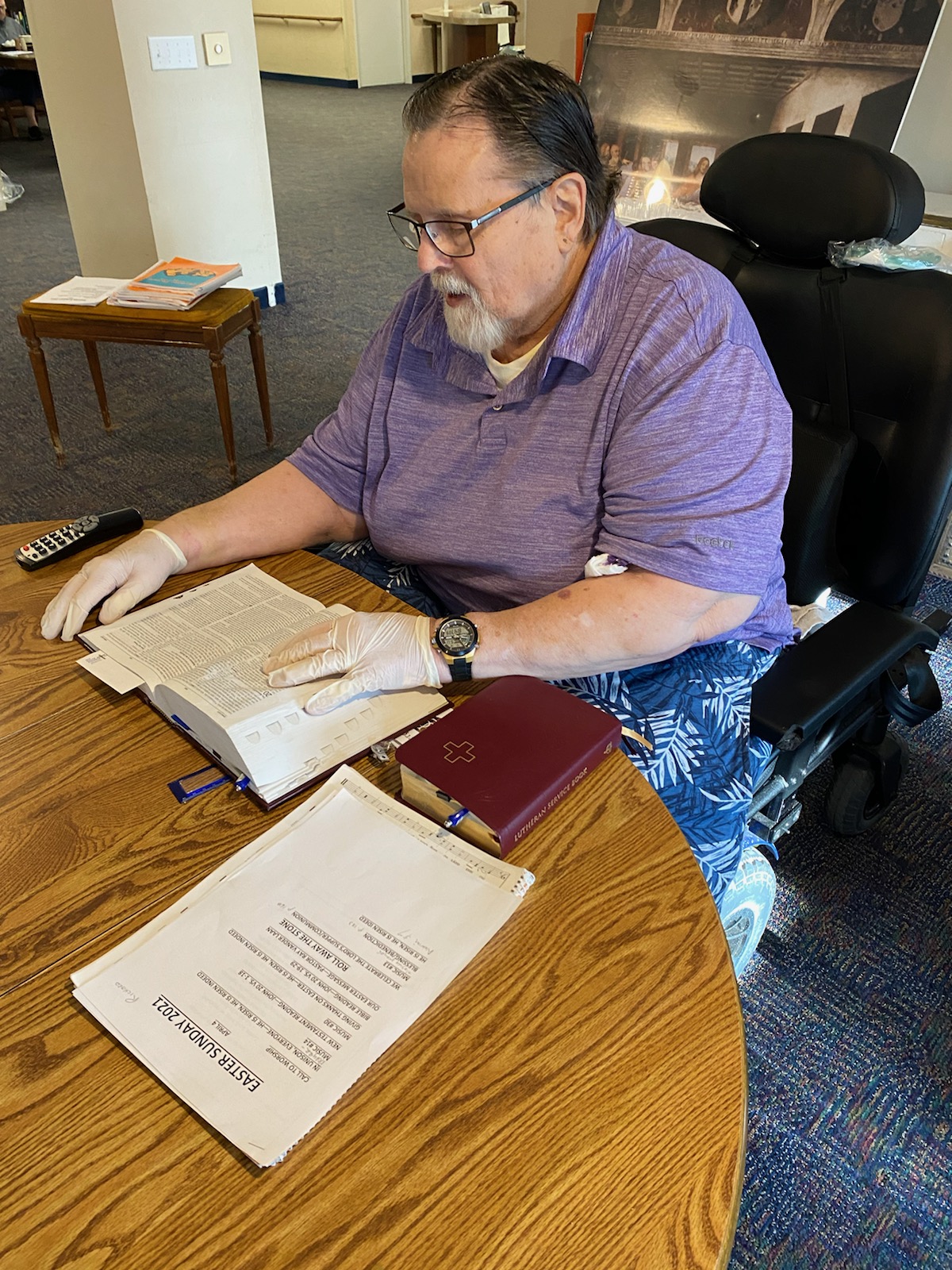 Dick preparing for the special Easter service.
WAYS YOU CAN HELP US HELP THOSE IN NEED
Below you will notice that we have changed the way you can order items that you can use in your everyday life AND support the foundation.
SPECIAL NOTE: On several of the packages we have included a valuable Prayer book authored by Max Lucado and his wife Andrea. There are prayers for all occasions…including those when we don't know what to say. To help read them and other things we are including a ruler with magnifying glass and hi-liter.
ORDER TO HELP…
$10 CONTRIBUTION PER ITEM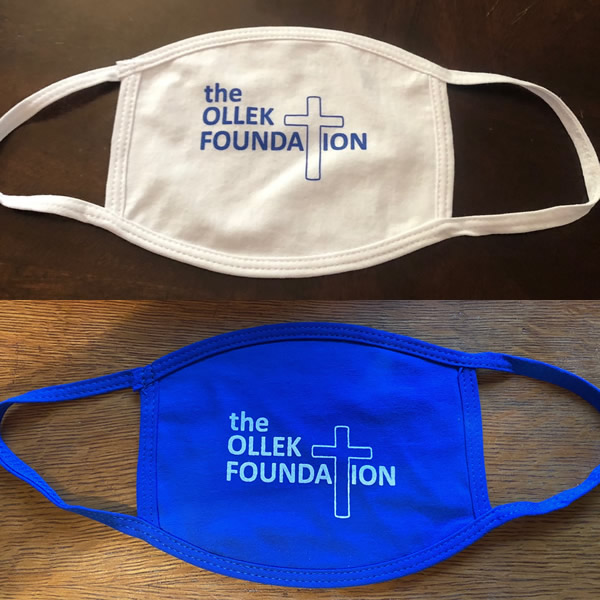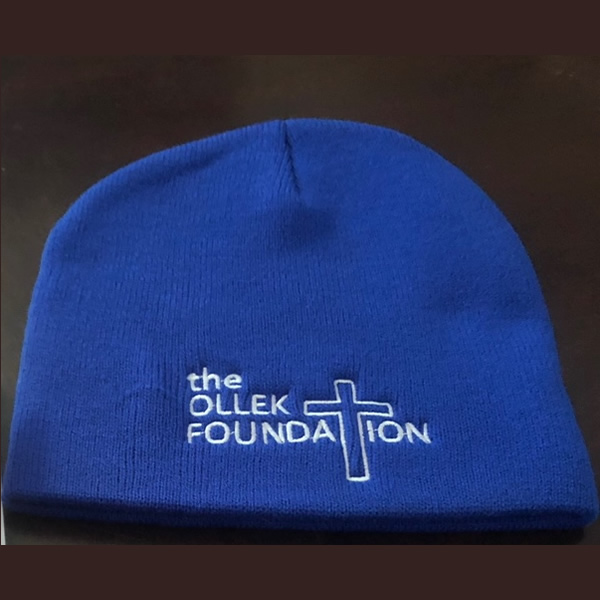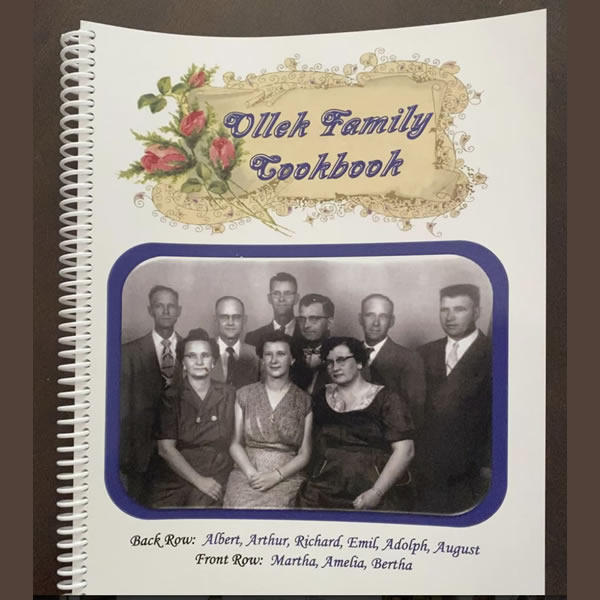 $20 CONTRIBUTION PER SET/ITEM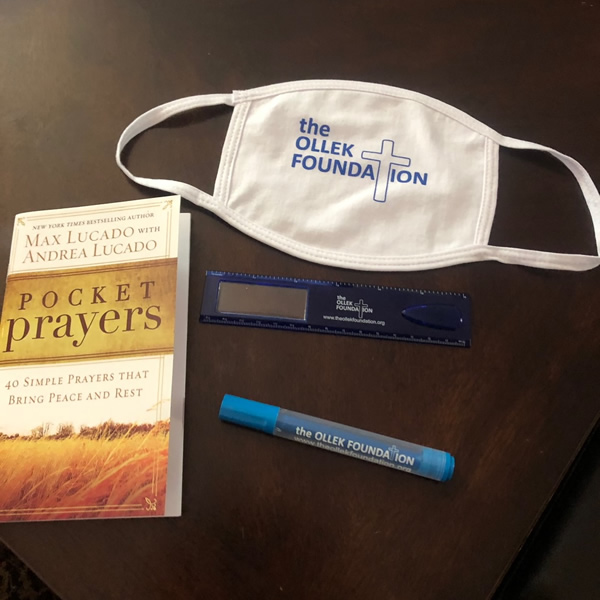 Mask, Pocket Prayer Book, Ruler, Mag. Glass, Hi-Liter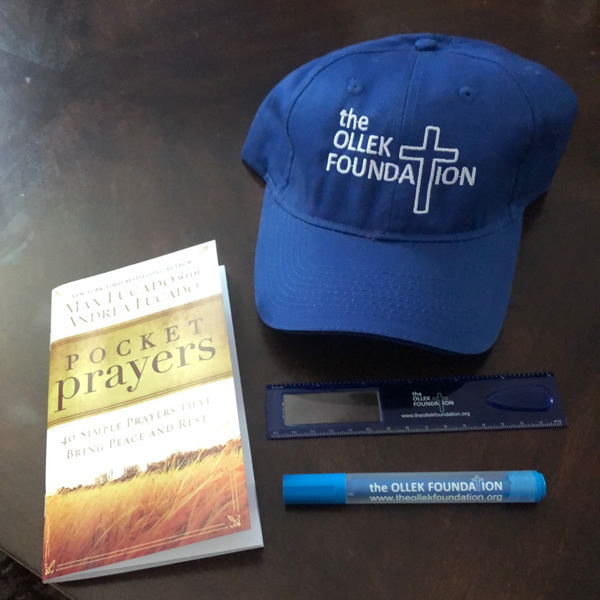 Cap, Pocket Prayer Book, Ruler, Mag. Glass, Hi-Liter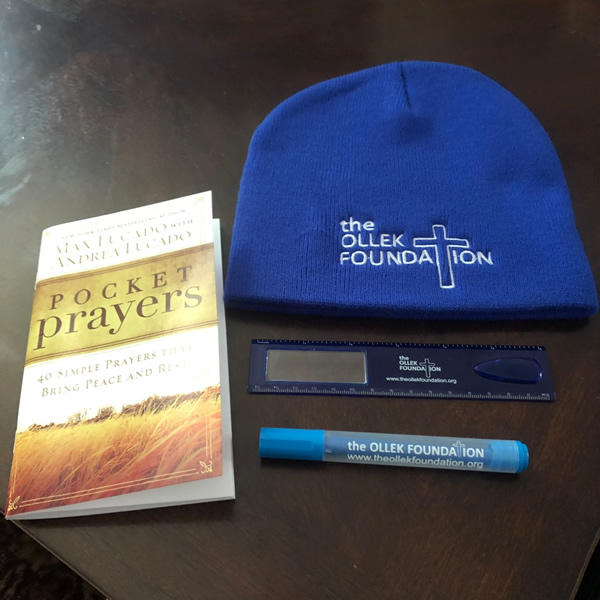 Beanie, Pocket Prayer Book, Ruler, Mag. Glass, Hi-Liter
Ollek Family Cookbook, Pocket Prayer Book, Ruler, Mag. Glass, Hi-Liter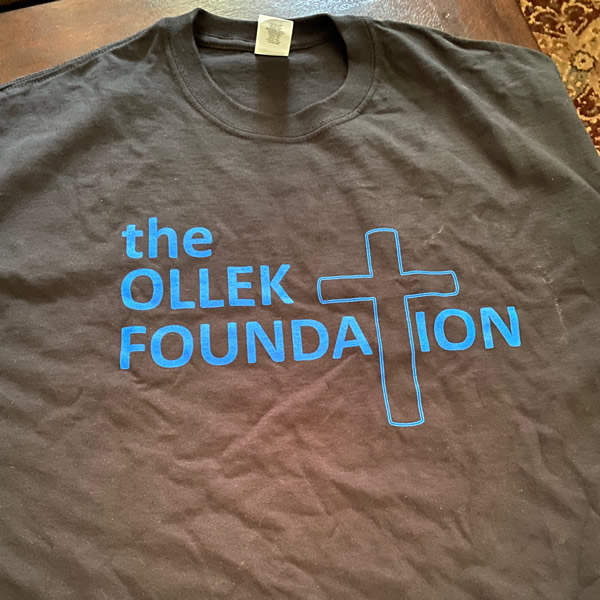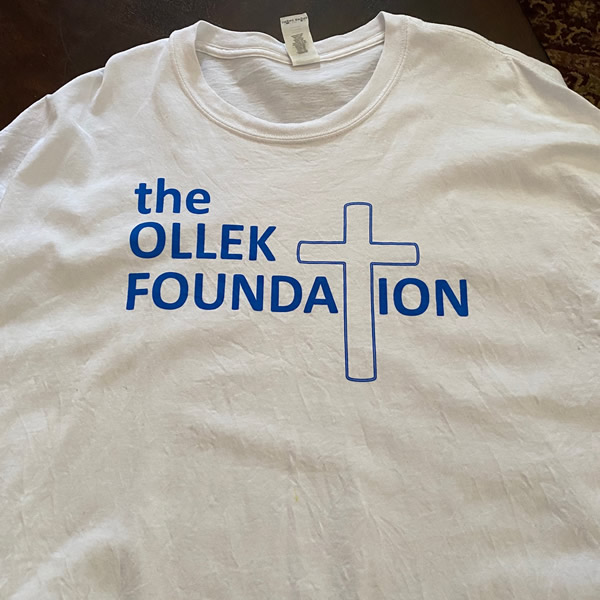 $30 OR MORE CONTRIBUTION PER SET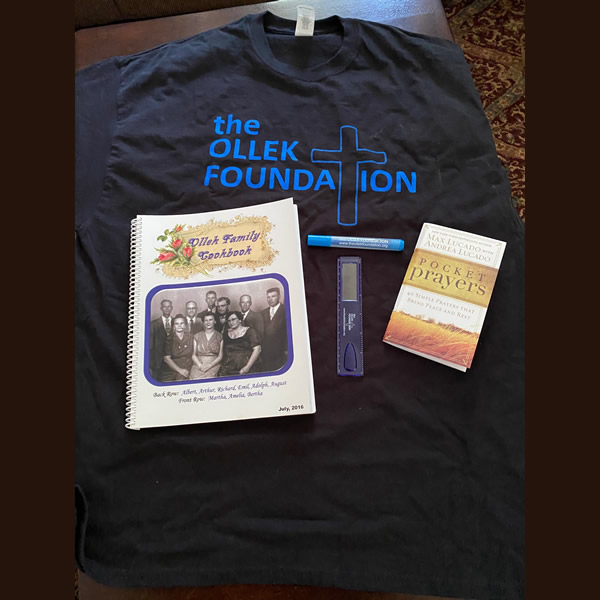 Black T-Shirt, Ollek Family Cookbook, Pocket Prayer Book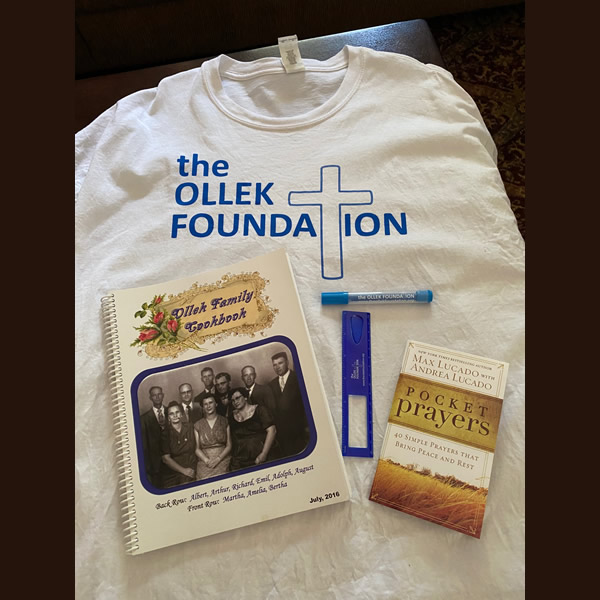 White T-Shirt, Ollek Family Cookbook, Pocket Prayer Book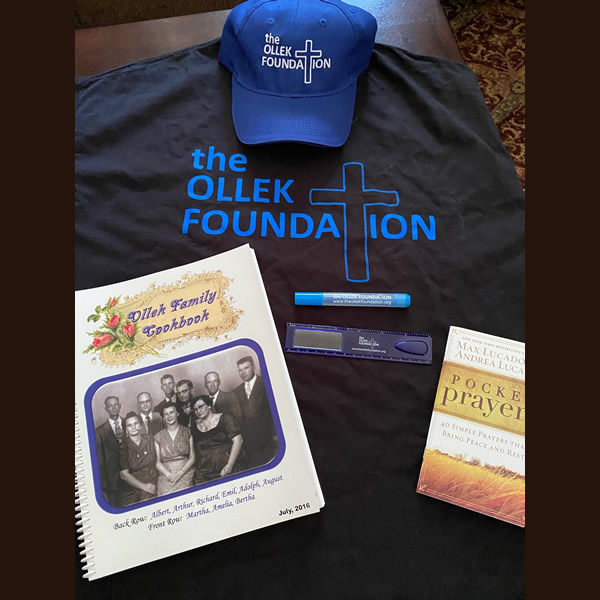 Cap, Black T-Shirt, Ollek Family Cookbook, Pocket Prayer Book
Donate to the Ollek Foundation
---
We encourage you to "Help people who help people". You can do so by contributing below using your credit card. We THANK YOU and those in need are ever so thankful.
THANK YOU FOR YOUR SUPPORT!
OLLEK FOUNDATION STAFF RESTS AFTER UNLOADING THE TRAILER
Officers and Directors
---
Ronald (Ron) Ollek—President
Barbara (Barb) Ollek—Vice President
Richard (Dick) Ollek—Vice President
Robyn (Ollek) Gruenwald—Secretary
Richard (Rich) Ollek—Treasurer
Any Help is Appreciated
---
If you have any questions or want to contribute by mail we can be reached at 316.249.9917 and at:
The Ollek Foundation
11245 W. Neville Ct.
Wichita, Kansas 67205