AN EXCITING HELPFUL 2018 IS UNDERWAY
Our board has been actively meeting to determine how, in 2018,  we can help people who help people. The need is great and we want to help wherever we can with the resources we have available.
We were excited in our first year to be able to assist several organizations  in need.  We helped:
Midwest Battle Buddies
Rise up for Youth
Victory in the Valley
Cleaning For a Reason
NOW TO WHAT'S HAPPENING NOW . . . WE HAVE TWO UPCOMING EVENTS:

June 16, 2018: Wichita Family Crisis Center Food and Clothing Drive
The work they do is incredible and the needs they have for assistance is almost overwhelming. Please bring food and clothing to the Quantum Credit Union's parking lot at 6300 West 21st North in Wichita between the hours of 8 AM and 12 NOON. A long wish list of desperately needed items can be found on our Facebook page. Please help if you can. Donations of any size are greatly appreciated.
October 7, 2018: 2nd Annual Food Drive for Victory in the Valley
Please bring food to the Quantum Credit Union's parking lot at 6300 West 21st North in Wichita between the hours of 8 AM and 12 NOON. Last year we collected an estimated 4,000 pounds of food.  Our goal is to surpass that number in 2018. More details to follow later.  Please mark your calendars for October 7th!
Other events are being researched and will be posted on this site as we finalize plans for specific events.
OUR PRAYERS HAVE BEEN ANSWERED!
Because of the generous contributions by various individuals, we have been able to secure the much needed enclosed trailer that will help us do a better job at events. We can now store the food and clothing we collect AND . . . all the items we need to properly set up and be visible at the events we hold. Thank you, thank you, thank you to those of you who made this dream come true!
Please help us if you can. Remember, none of us take any compensation so the funds you provide are used 100% to help those in need.
God Bless You.
The Ollek Foundation
---
After considerable discussion and planning, the Ollek Foundation was formed in 2017 as a 501(3)(C) non-profit charitable organization which allows for tax-deductible contributions to be received.
Our major purpose is to "help people who help people" and follow the direction of Philippians 2:4 which states,
"Look not only on your interests, but also on the interests of others."
The Bible has several versions of this verse but each version gives clear direction that we are to be concerned about our fellow man and the difficulties that they may face and that is what The Ollek Foundation endeavors to do.
It should be noted that NONE OF THE OFFICERS AND/OR DIRECTORS OF THE OLLEK FOUNDATION RECEIVE ANY COMPENSATION so we can direct more funds to those needing help.
We have been blessed early in our formation to assist groups such as Cleaning For a Reason, a National organization dedicated to providing FREE house cleaning services for Women fighting cancer. One of our directors personally witnessed, in 2017, the outstanding service they provide. While Rich lost his wife to colon cancer, the free house cleaning they provided through their local affiliate, The Cleaning Authority in Wichita, Kansas to assist him and his wife Kelly during her struggles was truly outstanding and greatly appreciated.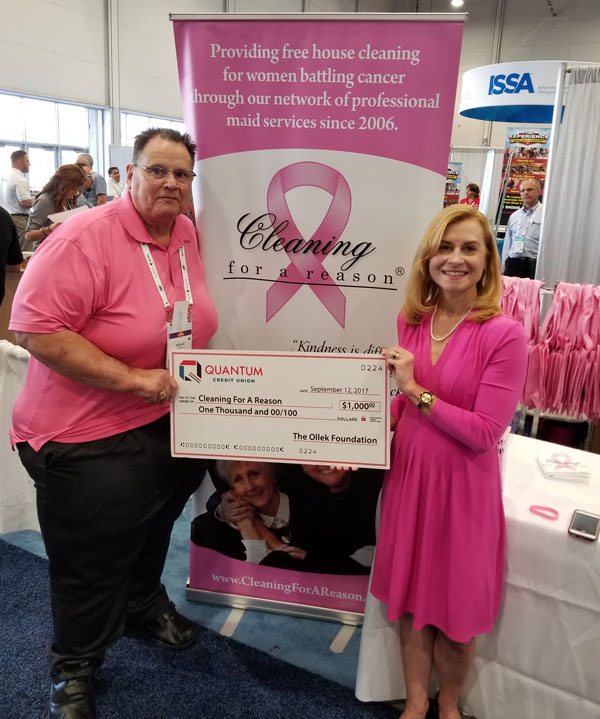 Dick Ollek of The Ollek Foundation presenting a check to Lynn Frankenfield, Executive Director of Cleaning For A Reason.
In addition, we have presented a check to Victory in the Valley Inc., also a non-profit organization dedicated to assisting cancer patients and their families with food and other necessities of life that enable them to focus their efforts on fighting that dreaded disease.
Ron and Rich Ollek of The Ollek Foundation presenting a check to Diana Thome, RN, BS Executive Director of Victory in the Valley and Eunice May, Assistant Director of Victory in The Valley.
Donate to the Ollek Foundation
Donate $20 or more and get a free shirt!
---
We encourage you to "Help people who help people". You can do so by contributing below using your credit card. We THANK YOU and those in need are ever so thankful.
Any help is appreciated
---
If you have any questions or want to contribute by mail we can be reached at 573.434.9296 and
The Ollek Foundation
11245 W. Neville Ct.
Wichita, Kansas 67205
Officers and Directors
---
Ronald (Ron) Ollek—President
Barbara (Barb) Ollek—Vice President
Richard (Dick) Ollek—Vice President
Robyn (Ollek) Gruenwald—Secretary
Richard (Rich) Ollek, Jr.—Treasurer
FOOD DRIVE SUCCESSFUL
Our food drive to help fill the pantry for Victory in the Valley was a wonderful success on October 7, 2017. We collected over $4,000 in food, several hundred dollars in gift cards and several hundred more dollars in cash. This is in addition to the $500 check we presented in September. THANK YOU to everyone who helped in this worthwhile endeavor. We had contributions from Kansas, Oklahoma, Texas, Virginia, Missouri, Florida, and Nebraska. In fact, we had one lady drove five and a half hours from Texas to contribute.
If you missed out and still want to help you can go to the right side of this web page and contribute one of the amounts shown. We'll both be glad you did.
Shown below are pictures of some of the food delivered to Victory in the Valley. President Ron is resting on his two wheeler after unloading the trailer.
THANK YOU again to all who contributed. We appreciate it and so do the recipients of your generosity. Just another way we can all help people who help people.
More fundraising events are planned to further the efforts to assist those individuals and families that need assistance. You too can assist us in this endeavor by contributing much-needed funds.